2020 Enrolment @ Alphabet Playhouse East Coast Centre (18 Nov - 14 Dec 2019)
By Alphabet Playhouse
18th Nov 09:00 AM ~ 14th Dec 04:30 PM
2020 Enrolment @ Alphabet Playhouse East Coast Centre (18 Nov - 14 Dec 2019)
18th Nov 09:00 AM ~ 14th Dec 04:30 PM
Details
2020 Enrolment for Alphabet Playhouse starts now!
Parents are welcome to visit our East Coast centre from 18 Nov - 14 Dec 2019 to learn more about our childcare curriculum and environment.
Give your child an outstanding foundation for life
Alphabet Playhouse – A trusted premium preschool with over 20 years of experience. Renowned for its unique adventurous concept, Alphabet Playhouse offers learning and enrichment programmes for children from 18 months to 6 years old, in the playgroup, nursery and kindergarten levels. Our bilingual curriculum nurtures all aspects of the child's development, facilitating the transition from pre-school to primary school.
Holistic Curriculum

Alphabet Playhouse's holistic curriculum focuses on sports, music and nature to empower your child's learning through our fun, creative and well-balanced programmes! A play-based approach, we believe for young children, every experience or encounter presents a learning opportunity hence the preschool education plays an important role in the child's development.
Well-rounded Education
Our unique play and musical-based curriculum provide the student with a fun method of learning languages, numeracy, science and arts. Our programme cultivates students' social, emotional and cognitive development during their formative years, laying the groundwork for on-going success in Primary school education and lifelong learning.
Chinese Language Immersion

At Alphabet Playhouse, our curriculum focus on the holistic development of the child through play-based programmes. Our innovative way of teaching the skill of Chinese language is creatively taught through the rhythmic pounding of the Cajón drum that stimulates brain function, resulting in higher intelligence.
Outdoor Activities

Alphabet Playhouse @ East Coast Centre is certainly a wonder and a dream come true for every child. Little ones laugh in delight as they frolic and play in a vast area filled with a multitude of slides, climbing walls, monkey bars and more. They scoop, dig, pour and sift in the covered sand pit and then go splashing in the cool outdoor pool for some exciting water play.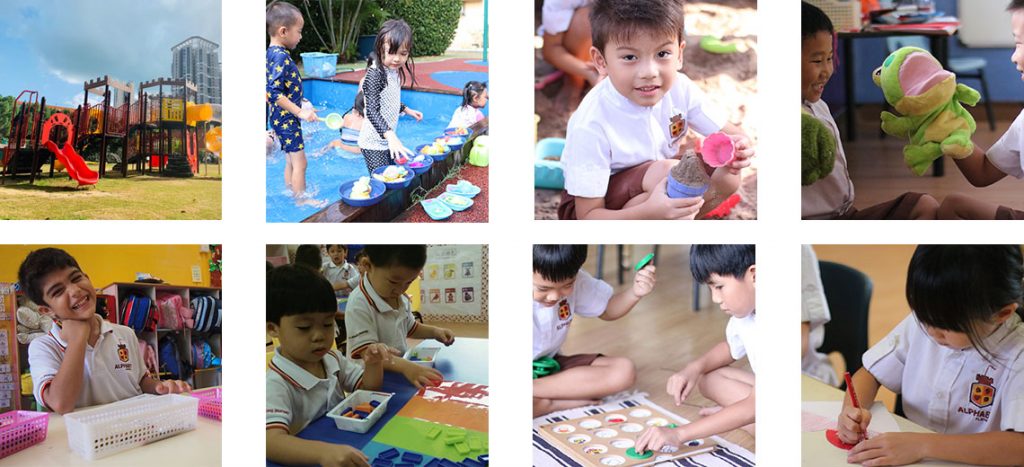 https://www.alphabetplayhouse.com.sg/new/2020-enrolment

New Enrolment Promotion
Waiver of Registration Fee
$200* off monthly school fees for 12 months for full-time childcare programme. (Total value: $2400).
For half-day childcare programme, promotion is $100* off monthly school fees for 12 months.
*T&Cs apply.
Read More
Date and Time
18th Nov 09:00 AM ~ 14th Dec 04:30 PM
Venue
Alphabet Playhouse @ East Coast


440A Upper East Coast Road, Singapore 466497 View Map
Alphabet Playhouse
Alphabet Playhouse is where adventure and discovery take flight.
We believe that a child's imagination is boundless, just like his/her expedition for new knowledge and experiences. This is why Alphabet Playhouse focuses on bringing out your child's greatest potential through a series of well-crafted programmes, aimed at stimulating his/her courageous and curious minds.

The world is like a magical castle to a child, with surprises and mysteries waiting to be unravelled. Every corner lies an unpredictable journey and at every turn, a new adventure. Within the enchanting walls of the Alphabet castle, the quest of unveiling knowledge is an exciting daily phenomenon. We take pride in fusing the learning processes of children with their desire to play, formulating the perfect adventure that is safe, enriching and enjoyable.

Because at Alphabet Playhouse, adventure is just the beginning.
And the limit, is your imagination.